The Fifteenth Anniversary Commemorative event of NCRM, the XV NCRM NICHE was held this year as a virtual event on 18th October 2020, in academic partnership with Shibaura Institute of Technolocy (SIT), Tokyo, Japan in academic partnership with German Society for Stem Cell Research (GSZ), Cologne, Germany, Edogawa Evolutionary Laboratory of Science, Japan and the Training Program in Regenerative Medicine (TPRM), Canada.

This year NCRM NICHE had the following Events:

1. Fujio Cup Quiz  - Due to the ongoing COVID-19 pandemic the active knowledge gaining (AKG) event Fujio Cup Quiz (FCQ) 2020's preliminary rounds were held virtually for the first time. Dr. V. Dedeepiya Devaprasad (Critical Care consultant, Apollo Hospitals, Chennai & Teaching Assistant, TPRM, Canada) served as the Quiz master while Dr. J. Saravana Ganesh (Cardiothoracic surgeon, Waikato District Health Board, New Zealand) and Dr. Samuel JK Abraham (Faculty, University of Yamanashi & Head, Nichi-In) served as the Jury. Two Preliminary rounds were held in which teams from India, Indonesia and Australia participated in slots allotted to each of the teams. The experience was a different one which was thoroughly enjoyed by the participants and the quiz masters apart from thought proving discussions on novel technologies in regenerative medicine. Four teams were selected for the final round virtual presentations during the NCRM NICHE 2020 event on 18th Oct 2020.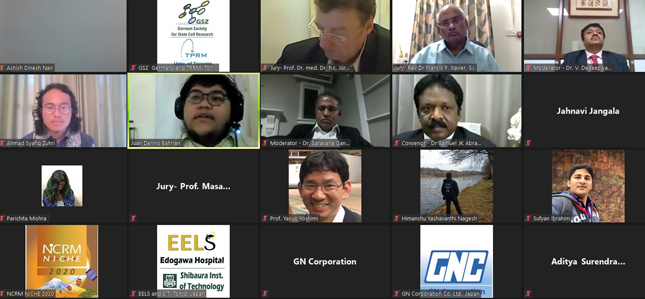 Virtual event of NCRM NICHE 2020 - 18th October 2020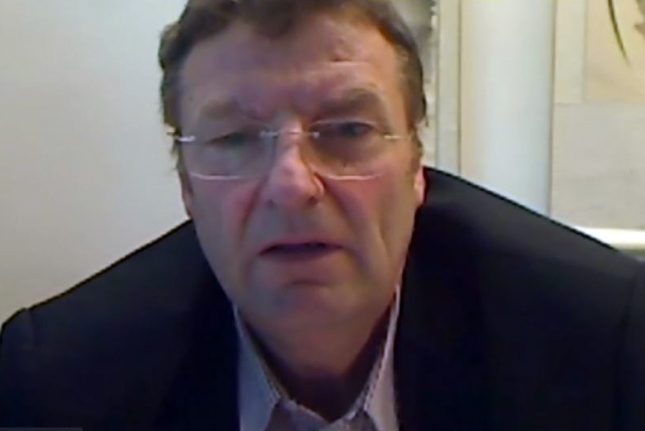 Jury for the FCQ 2020 Final Round Presentations: Prof. Dr. med. Dr. hc Jürgen Hescheler
2. Plenary Session & JSRM Oration - Interactive Lectures delivered by Internationally Renowned top-notch Scientists and Clinicians in the field of Regenerative Medicine

Prof. Masaharu Seno; Professor, Faculty of Engineering, Graduate School of Interdisciplinary Science, Engineering in Health Systems, Okayama University, Japan & Dr. Maria Cristina Nostro
Scientist, McEwen Stem Cell Institute and an Assistant Professor at the University of Toronto presented their virtual lectures.
3. Inter-Disciplinary Conclave (IDC) - The NCRM NICHE Inter-Disciplinary Conclave (IDC) was an unique event conducted as part of the NCRM NICHE event on the 18th of October 2020, in which the researchers and scholars from Inter-Disciplinary fields of physics, chemistry and other allied fields of science present their views and opinions. Rev Fr. Francis P Xavier SJ, a physicist who is the Founder-Director of Loyola Institute of Frontier Energy (LIFE) and Loyola-ICAM College of Engineering and Technology (LICET), former Gasson Professor at Boston College; and the Vice President for Academic and Research (Jesuit Worldwide Learning), Geneva presented his views on Stress Management and COVID 19 in the Inter-Disciplinary Conclave (IDC) session 2020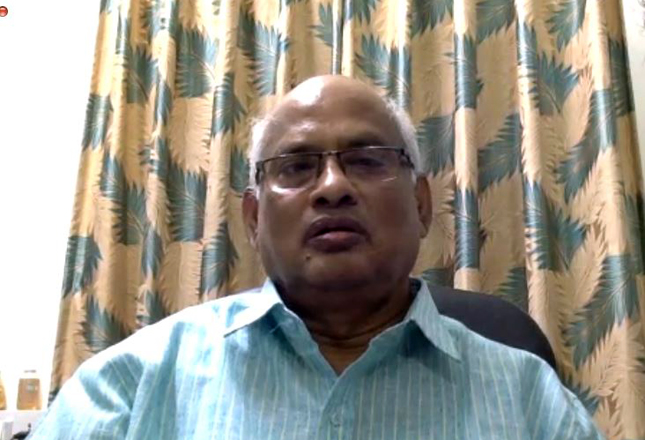 Rev Dr Francis P. Xavier, SJ.; Rector and Vice President Loyola Campus, India, presented his virtual lecture on "Stress Management and COVID 19"