Prof. James Till
Joyce and James Till Travel Grant awardee 2019

The NCRM NICHE organizing committee is pleased to award the 2019-Joyce & James Till Travel Grant to Dr. PV Sudharsan.

His unrelenting passion to learn newer things, commitment to share his knowledge with the youngsters and meticulous involvement with timely completion of the tasks throughout the multi-step selection process have made the jury, honour PV Sudharsan with this grant to participate in the NCRM NICHE 2019 in Tokyo, Japan.

Dr. Sudharsan enrolled for the Fujio Cup Quiz in the year 2012, got to the finals and emerged as winners of the Fujio Cup when he was an undergraduate student of Medicine. He then obtained his Masters in Surgery at Madras Medical College, got ATLS certified, completed MRCS and will pursue higher studies in Neurosurgery, having secured top ranks in the national level entrance in 2019.

We sincerely appreciate his recognition of the values of the opportunities that NCRM NICHE had provided, to explore this evolving domain of regenerative medicine by means of preparing for the FCQ and the network built by participation in the NICHE event.

His spirit of sportsmanship by taking part in FCQ, not just to win, but to learn, his ceaseless follow-up for updates in the field are worth a special mention.
As Dr. P.V. Sudharsan could not travel to Japan for receiving the Joyce & James Till Travel (J2T2) Grant 2019 award and share his experience with the FCQ 2019 Elites in person, his speech was videocast during NCRM NICHE 2019. Click here to watch Dr. P.V. Sudharsan's speech to the FCQ Elites 2019
Ms. Sandhyaa Venkatachalam, Fujio Cup Quiz Elite - 2011 & Joyce & James Till Travel Grant (J2T2) 2019 nominee delegate attended the NCRM NICHE 2019 event in Japan and delivered her speech during the event. Ms. Sandhyaa received the J2T2 2019 award plaque on Dr. P.V. Sudharsan's behalf while she was given the J2T2 2019 travel grant and a certificate of appreciation.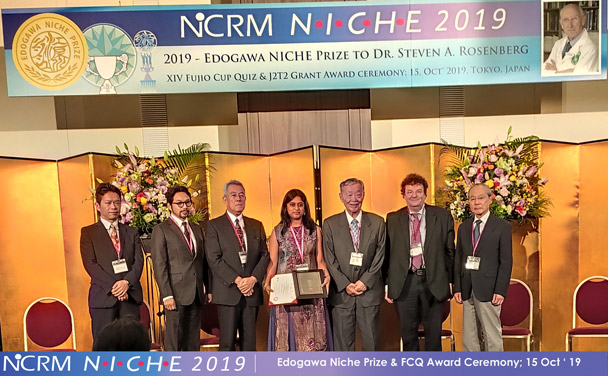 Ms. Sandhyaa Venkatachalam receiving the J2T2 2019 award plaque on Dr. P.V. Sudharsan's behalf &the J2T2 2019 travel grant, a certificate of appreciation from the dignitaries of NCRM NICHE 2019 Awards ceremony, 15th October, 2019 . Ms. Sandhyaa (Center) with Dr. Shojiro Katoh (2nd from Lt), Dr. Masahiro Katoh (3rd from Rt) & Prof. Dr. Jurgen Hescheler (2nd from Rt)